Donkey Kong Country: Tropical Freeze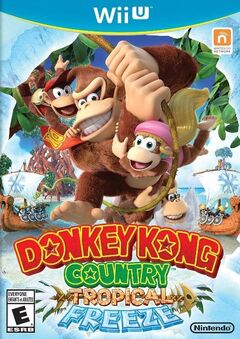 The official North American box art for the game.
Developer(s)
Retro Studios
Publisher(s)
Nintendo
Series
Donkey Kong Country Series
Platform(s)
Wii U
Release Date(s)
NA February 21, 2014
JP February 13, 2014
EU February 21, 2014
AU February 22, 2014
Genre(s)
Platform
Mode(s)
Single Player, Multiplayer
Controller(s)
Wii U Gamepad
Wiimote
Nunchuck
Wii U Pro Controller
Rating(s)
ESRB: E
PEGI: 3 Years and older
Donkey Kong Country: Tropical Freeze is a side-scrolling platform game for the Wii U. It is the sixth installment in the Donkey Kong Country series, and a direct sequel to the 2010 Wii game, Donkey Kong Country Returns. It is also the second Donkey Kong Country title developed by Retro Studios. Originally slated to be released in November 2013, it was delayed until December 6, then again until February 13, 2014. At the VGX Awards on December 7, 2013, the release date was confirmed for North America to be February 21, 2014.
Playable Characters
Edit
Playable Characters
Name
Abilities
Kong POW Ability

Donkey Kong

The character the single or first player always controls, and also the heaviest.
He is shown to be able to water skip when rolling with another Kong on top of him.
Underwater, Donkey Kong is able to charge at enemies to defeat them.

None.

Diddy Kong

His jetpack returns, allowing him to hover in midair and get speed boosts underwater (this cannot defeat enemies).
His Peanut Popgun returns as well, working just like it did in the previous game.

Turns enemies into Red Balloons, which add lives.
Worlds
Name
Image
Lost Mangroves
Autumn Heights
Bright Savannah
Sea Breeze Cove
Juicy Jungle
Donkey Kong Island
Secret Seclusion